Advanced Barcode Technology, Inc.
Press Release
Advanced Barcode Technology, Inc. announces the release of the AT209E Message Display Center
FOR IMMEDIATE RELEASE: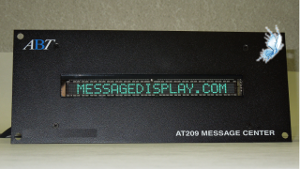 GREAT NECK, NY- On January 30, 2013 Advanced Barcode Technology, Inc. announced its new AT209E Message Display Unit. The capabilities of the new AT209E include:
Display status of 256 Digital Messages using parallel or serial trigger
Display status of two Analog Input channels; fully configurable for scale and accuracy
Measures temperature with its bulit-in sensor and displays in any format; Celsius, Fahrenheit and Kelvin
120VAC, 230VAC, 10VAC to 30 VAC, 12VDC to 30 VDC Power options
Fully configurable with its windows based software
Interface to all popular PLC
20 characters vacuum fluorescent display visible in sun light
Modular Display Board; Improved mounting enabling wider viewing angle.
Thicker PCB
The AT209E is fully compatible with the AT209CE; therefore existing clients can continue to use ABT's Windows based configuration program while benefiting from the additional features.
List price for the AT209E is $795 for quantities smaller than ten.
For further information and customized orders please contact:
Dana Rothschild, Marketing Manager
Advanced Barcode Technology, Inc.
175 East Shore Road
Great Neck, New York 11023
http://abtworld.com
1800-722-6337