FOR IMMEDIATE RELEASE
Advanced Barcode Technology Website: http://www.ABTworld.com
Editorial Comments: Dan Silverman, 516-829-2135,
ABT WASTETRAX DELIVERS AUTOMATED AUTHENTICATION AND IDENTITY VERIFICATION FOR WASTE MANAGEMENT
Melds Innovative Bar Code, Database, and Radio Frequency Technologies To Identify and track Hazardous/Non Hazardous Waste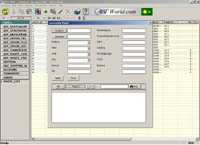 Advanced Barcode Technology, Inc. (ABT) announced the immediate availability of WasteTrax, an automatic identification solution that will provide a comprehensive mapping of all critical aspects in the tracking of waste related materials.WasteTrax is specifically designed for industries that generate different types of waste. WasteTrax can also aid industries such as Oil and Mining exploration companies, that operate several remote locations but do not have direct access to the network. WasteTrax provides the vehicle in which companies can now be informed centrally of those remote activities in the field. Additionally, WasteTrax Web interface feature allows vendors to close the loop on status of waste destination for waste task completion.
WasteTrax highlights include the following:
Waste labeling and identification, insures compliance with state and federal regulations
Tracking waste from generation to destination utilizing PDA technology
Ease of use, incorporates intuitive process for generation of waste utilizing filtered screens to eliminate potential operator error through alarms and ensuring proper options are selected based on many predetermined variables
Generation and printing of a manifest (including embedded barcode)
Generation of a barcode label
Automatic filling of a Form and printing
Audit trail and reports
WasteTrax provides an accurate, durable, secure and cost effective waste management solution. The ABT solution suite requires minimal additional equipment and little training and can be deployed with out the services of third-party consultants or systems integrators.